Designing Brand Identity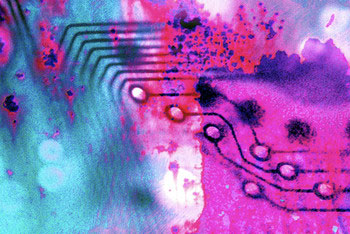 Enhancing member service, addressing space needs, and supporting growth are key priorities in expansion programs. While these are important benefits, credit unions shouldn't overlook another key consideration: How can facility design support or even enhance the institution's overall brand identity?
A strong brand image is essential for credit unions to successfully build and maintain member loyalty. A vibrant brand identity is much more than just a corporate logo, signage, or marketing materials. It's a consistent set of values, benefits, and services defining how members and employees perceive an institution and how the institution differentiates itself from competitors.
Facility design can and should play an important role in supporting-and sometimes creating-a distinctive brand identity. Providing a visually attractive building, however, is only part of the challenge. Many other aspects of a building program-from strategic planning and site selection to physical layout and service delivery-can transform a credit union from merely bricks and mortar into a fully branded experience.
First Community Credit Union recently completed three new branches in the St. Louis metro area. All three facilities feature the same distinctive design, including a dramatic barrel vault roof, open floor plan with high ceilings, and a high-tech interior design. These features establish a distinct brand identity, which could support First Community's expansion into new regional markets.
Similarly, Galveston County Federal Credit Union's new branch in League City, Texas, features a modernistic design with a dynamic curvilinear exterior mirrored in the interioror design elements.
"We wanted to establish a strong brand identity with a new image, logo, and color scheme. This new facility is helping us communicate our new image to the community," says Brad Jackson, vice president, Galveston County Federal.
AmeriChoice Federal Credit Union currently is building a new main office and branch facility in Upper Allen Township, Pa. The contemporary design includes a striking, bright red lighted entry tower, which credit union officials believe will establish a distinctive identity for the new facility and also make it a community landmark.
In many cases, facility design enhances an existing brand identity rather than creating a new one. An example is Educators Credit Union, which faced the challenge of renovating its aging headquarters facility located in a bustling retail storefront neighborhood across from Vanderbilt University in Nashville, Tenn.
Although zoning restrictions and lack of space made an expansion impractical, the credit union didn't want to relocate from the site it had occupied for more than 30 years.
The solution was a complex renovation program in which more efficient organization of departments.
For the exterior, a new brick and synthetic stucco finish was applied to the entire glass curtain building.
The result was a dramatic, modern new look that was consistent with the architecture of the surrounding retail district. That enabled the credit union to maintain its presence in the historical district.
"Many people think it's a new building, and for all intents and purposes it is," says Hank Flury, Educators' president/CEO. The credit union remained operational throughout the 21-month project, "and that was really a remarkable achievement," he adds.
Retail driven
Design elements alone, however, are only one step in building and sustaining an enduring brand image. Credit unions also effectively can use marketing and merchandising strategies to define their sales culture and influence members' buying decisions.
Facility design can support this objective by creating a vibrant retail environment showcasing a credit union's products and services, encouraging members to interact with the brand on multiple levels.
Many credit unions are incorporating highimpact marketing and merchandising elements, such as video panels, informational kiosks, and graphic displays to achieve this objective.
Following a recent expansion/renovation program, the lobby of Anheuser-Busch Employees' Credit Union, St. Louis, was transformed with new video displays offering news programming and marketing content, lighted merchandise signs, and a large "destination" area to display major consumer products, such as automobiles, boats, and home improvement products, provided by the credit union's indirect lending partners.
"We needed to update the lobby and offer more of a retail destination instead of just a place for members to quickly come in, get cash, and get out," says Dave Osborn, credit union president. "One of the big benefits is that we now have significantly more space for marketing opportunities."
Fort Knox Federal Credit Union's new headquarters in Radcliffe, Ky., features flat-screen televisions that rotate news programming with marketing content. The same content is played on remote teller screens in the lobby and on video screens in the drive-up lanes. These marketing videos serve a dual purpose: They promote the credit union's messages while providing a diversion for members waiting to complete their transactions.
The expansion of Northwest Federal Credit Union in Herndon, Va., included space for a Member Education Center. The center offers complimentary beverages, a stock ticker, kiosks for online banking, an automated teller machine, credit union product literature, and a news information center.
Service culture
A credit union's commitment to member service is another key influencer of its overall perception in the market and resulting brand identity. just as Nordstrom's reputation within the retail industry is built on legendary customer service, credit unions, too, can differentiate themselves based on how they cater to members' needs. Facility design plays an important role in supporting a service-oriented culture.
In planning its new headquarters facility, Fort Knox Federal decided that delivering outstanding member service was a priority.
"The key was to find processes and systems that would provide enhanced convenience for our members while resulting in operational savings for the credit union," explains Bill Rissel, president/CEO. "Our goal was to develop unique systems and amenities that would set us apart."
In addition to a traditional teller line, the lobby features four video teller units. They reduce the need for members to wait in line because remote tellers efficiently handle multiple transactions simultaneously.
To manage the high number of transactions Fort Knox Federal handles, the drive-up lanes use a unique double stacking system. Each drive-up lane has two video tellers, unlike traditional drive-ups with one service unit per lane. This approach reduces wait time for members and also saves approximately 50% of the cost of additional drive-up lanes.
Another feature is a self-service locker system. Instead of traditional safe deposit boxes requiring two keys, members can access their locker with a single key and avoid having to be accompanied by a credit union employee.
"Members have taken to this very well," Rissel says. "The vault door is left open, and they feel comfortable and secure simply walking in and using their key to access their locker. It means greater convenience for our members and reduced operating expenses for the credit union."
The way a credit union treats its employees, not just its members, also is a key factor in shaping an institution's overall reputation. For Northwest Federal, attracting and retaining quality employees in the highly competitive Washington, D.C., market is a key objective.
As a result, the credit union incorporated several employee amenities in its recent expansion program, including a large exercise area with showers and locker rooms, and an employee dining room that's also used for employee functions and special occasions.
Northwest Federal also is one of the few credit unions in the nation with its own freestanding day-care center. Many of the employees have a time-consuming commute to work, so the 7,800-square-foot, on-site day-care center is a major benefit greatly appreciated by credit union staff. The day-care's design is reminiscent of a Victorian home, so children and adults don't perceive it as a "work" environment.
The project also provided new "code blue" stations strategically located throughout the parking lot so members and staff can seek immediate help in an emergency. The stations are equipped with a camera and flashing blue light activated by pressing a button.
Inside, the facility design incorporates extensive glass and an open partition system to promote the use of natural light and enhance the feeling of an open, spacious environment. The layout also provides window views of a walking path adjacent to the property.
Strategic planning