Absence visible: chosen by a jury from 5,201 submitted proposals, the design for the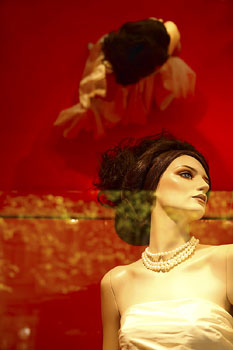 Conceived in response to an event with no clear meaning, a mass murder in which neither victims nor perpetrators have been conclusively or comprehensively identified, the World Trade Center memorial is a maddeningly amorphous subject. The commemorative process began, of course, the day the towers fell, with the instant, stupefyingly sad proliferation of "missing" notices. These hastily scrounged pictures of victims, photocopied and taped up everywhere in downtown Manhattan, are widely credited as the first, best memorial. Tellingly, they soon became an expression of collective denial. "Missing" was clearly the wrong word, but broadcasting death, and the grief and outrage it provokes, does not fit comfortably with the American character. The survivors were not ready to describe those they had lost as "killed."
That task was left, in deepest ambivalence, to the memorial. At this writing, the nature of that memorial hasn't been definitively resolved, though a 13-member jury has chosen a design. (1) Called Reflecting Absence, it features two recessed pools of water, each occupying a footprint of the obliterated towers. (2) This proposal is based on a design submitted by architect Michael Arad, who was subsequently joined, at the jury's suggestion, by landscape architect Peter Walker. On one level, Arad and Walker's design is a triumph of simplicity. Like the void left by the collapse of the towers--like the attack itself--its most overwhelming aspect is its sheer scale. Each pool is 200 feet square; the entire memorial site is slightly more than 4 1/2 acres. But Reflecting Absence includes a wealth of more particular features accessible below ground, many of them mandated by proposal guidelines or by the jury in post submission recommendations, themselves shaped in turn by comments from the public, the press and the memorial's immediate constituencies, including victims' families and nearby rest dents. Ramps will lead from a street-level plaza, where there will be a grove of deciduous trees, to walkways bordering the pools 30 feet below. One pool steps down to a further recess, the other has a square opening, or light shaft, at its center. Both are to be filled by water cascading down from the plaza, so below-ground viewers will see them through liquid veils. On a low stone ledge along the pools' perimeters, the names of those who died on Sept. 11 will (at this writing) be listed randomly, to reflect the arbitrariness with which they were killed. This means--and here was a crucial, agonizing decision-that civilians and uniformed rescue workers will he intermingled, though rescuers will be distinguished by graphic indicators (shields or insignia; the details remain undecided, and contested).
Linking the pools is an underground walkway that will also give access to two small underground rooms, one for quiet contemplation, the other for leaving the kinds of mementos that accumulate at memorials. A third, and much bigger, below-grade chamber, this one beneath the north-tower footprint and open to the sky through the square opening in this pool, will house a boxlike stone mausoleum containing unidentified victims' remains. At roughly 70 feet below ground, it will touch bedrock--an imperative for many victims' families. Another major component added to the original design is a ramped walkway leading to the base of the slurry wall that is the last physical vestige of the original Trade Center construction. There is also access from this walkway to an interpretive center that will present artifacts of the attack: a crushed fire truck; burnt and twisted steel columns; victims' personal effects, photographs, narratives and so on. Overall, the memorial's progression is from an oasis of serenity, at street level, to an ever more emotionally charged experience below ground.
Among the problems identified in Arad's original design was that the landscaping at plaza level needed to be substantially altered, which is, in part, why Walker was brought in on the project. He is also a seasoned professional, comfortable) it seems, in the public eye. (Peter Walker and Partners was formed in 1983 in Berkeley and has collaborated with such architects as Norman Foster, Arata Isozaki, Helmut Jahn and Renzo Piano on projects around the world.) In the jury's final statement, Walker's landscaping plan was praised for the "consoling regeneration" it symbolized and also for the presumably therapeutic "care and nurture" it will require. By contrast, Arad is young (34), and until now not known in the architecture community, much less to the wider public. His prior experience includes a three-year stint in the office of Kohn Pedersen Fox; until being named the memorial's designer, he was on the design staff of the NYC Housing Authority. A resident of Lower Manhattan, Arad has been living in the U.S. since 1991, when he finished his tour of duty with the Israel Defense Forces. (The son of a onetime Israeli ambassador to the U.S., Arad was raised in Israel, the U.S. and Mexico.) At the design unveiling, an event at which speakers included the governor and the mayor, Arad was visibly nervous, deeply humble and full of youthful ardor--perfectly cast, in other words, as an unspoiled idealist eager to lend his clear and innocent vision to public service.
Neither his idealism nor his anxiety was misplaced. And, not surprisingly, both belie what is described as a streak of fierce determination in Arad, who shares--and there is grim irony in this, given the apparently sectarian nature of the 9/11 attacks--his Jewish background with Daniel Libeskind, architect of the site's master plan. (Also part of the back-story is Walker's own unsuccessful bid for the memorial, a proposal the jury passed on early in the deliberations without knowing its author.)
The degree of general and partisan interest in the memorial, and the political and cultural stakes involved, can hardly be overstated. Media attention (by the New York Times, in particular) has been close to obsessive, and much of it, as the plan was finalized, fairly positive. On the other hand, resistance to Arad and Walker's design already exists. (An admittedly small and unscientific local poll, taken the day after the design was unveiled, found that a 39 percent plurality supported the statement, "I don't like it at all--they should start over.") (3) Complaints will surely continue beyond any memorial's completion, just as surely as resentment would have developed in the absence of a timely solution. Accommodations both technical (the complexity of Lower Manhattan's underground infrastructure is legendary) and expressive will surely continue, too. In an interview several weeks after his design was unveiled, Arad said, "Decisions that would not be difficult to make from a design point of view are enormously difficult from an emotional point of view."
But if the design outcome is murky, the proceedings themselves have been deeply illuminating, throwing light that is alternately lurid and ennobling on civic culture (if that's not an oxymoron today), on memorials and on public art generally. The task of choosing a memorial (as distinct from the development of the site as a whole, a boundary not easy for anyone to keep straight) was managed by the Lower Manhattan Development Corporation (LMDC), a joint state-city entity that appointed Anita Contini as project coordinator. Contini, a longtime negotiator between the incongruously overlapping worlds of vanguard art and corporate culture in Lower Manhattan, has credentials that go back to her founding directorship of the public-arts organization Creative Time in 1972. The jury assembled by Contini and the LMDC included several people who share her deep involvement with public art in New York City, among them art consultant Nancy Rosen, Public Art Fund president Susan Freedman, Studio Museum in Harlem director Lowery Sims and sculptor Martin Puryear, whose own sculpture rises over the Hudson just a few blocks away. The jury also included Julie Menin, its single downtown resident (though Contini lives just a few blocks from the Trade Center site, too); Paula Grant Berry, its sole representative of victims' families, and officials of city and state government (Patricia Harris and Michael McKeon, respectively). Other jury members were the memorial historian James E. Young and architects Enrique Norten and Michael Van Valkenburgh. The learned and famously congenial Vartan Gregorian, current president of the Carnegie Corporation, chaired the jury and was its spokesman. Last and hardly least, there was Maya Lin, who--in this field, anyway--needs no introduction.